Loqbooq for Webex being advertised in Silicon Valley 🤩
By Anna — May 11, 2022
Documenting decisions right where they are made
When we started working on Loqbooq, we wanted to create a tool that makes it possible to record decisions directly where they are made. As Slack is a place for continuous exchange and discussion within many teams, we build a Loqbooq Slack app directly from the beginning – besides a web app version of Loqbooq.
Another important place for discussions and decisions are live meetings. But often meeting results are not documented immediately because it is inconvenient to switch between the meeting app and other tools.
The Loqbooq Webex App
Webex is among the most popular web conference apps and offers various collaborative features, such as a digital whiteboard and interactive tools for surveys and participant involvement.
The Webex App Hub offers numerous apps that Webex users can add to their conference app. Many apps integrate popular tools into Webex. And, as of now, Loqbooq is a part of it!
Advertisement of Loqbooq on billboards in Silicon Valley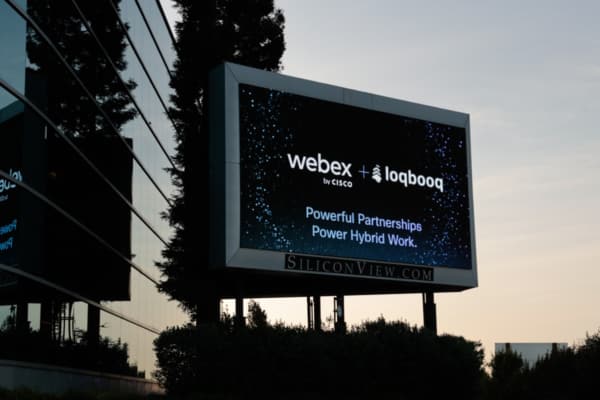 Cisco does not only have excellent support for developers integrating their services into Webex, but also has a partner program to support the advertising of newly integrated tools.
So, Loqbooq will be advertised on several billboards in Silicon Valley for the next week!